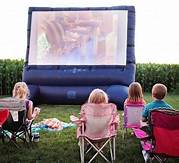 Princeton Town Topics – Let's Talk Real Estate – July 15, 2020
IDEAS FOR YOUR BACKYARD STAYCATION
This summer, many people are opting to spend their vacation in the comfort of their own homes. With a little creativity and ingenuity, you can make your backyard feel like a pleasurable escape. Here are a few simple yet fun ideas that can involve the whole family. Here's to summer fun!
Host a backyard movie night – All you need is a projector, a media source, and sheet or inflatable screen. There's no need for an expensive projector – a basic projector will work well outdoors. Just don't forget the popcorn!
Backyard camping trip – Set up a tent, have the kids bring out sleeping bags and relax under the stars. Plan the usual activities like singing songs and cooking s'mores. And if sleeping on the ground isn't your idea of fun, you can still go back inside and sleep in your own bed.
Family game night – Let each person choose their favorite game – outdoor games or board games. Yard games like croquet, oversize tic-tac-toe or checkers, and badminton are fun for all ages. You might even start a week-long game of Monopoly.
Backyard spa day – Treat yourself to a pampering day of rest.  Give yourself a manicure and pedicure, find a soothing face mask, or a hair treatment. Add some spa details like thick towels and a pitcher of ice water with fruit slices.