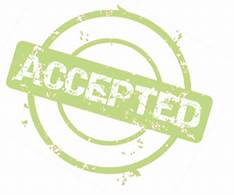 Princeton Town Topics – Let's Talk Real Estate – October 23, 2019
HOW TO SUBMIT AN OFFER THAT'S MORE LIKELY TO GET ACCEPTED
How to Submit an Offer That's More Likely to Get Accepted
While it may seem there isn't too much within your control when it comes down to making an offer on your dream home, considering using these tips to increase your chances of submitting an offer that gets accepted:

Understand the market. An offer not only identifies what you are willing to pay for the house but also what you think it is worth. 
Consider motivation. A seller's motivation can tell you a lot about their willingness to accept a lower offer. 
Be timely. You have less negotiation power if the seller has been presented with multiple offers. The sooner you put in an offer, the quicker you can find out whether or not your offer has been accepted or if you will be given an opportunity to revise it.
Offer a higher earnest money deposit. The earnest money deposit (EMD) accompanies your offer letter. It signifies a serious, sincere commitment to wanting to purchase the house.
The home-buying process can feel overwhelming at times. Fortunately, there are things you can do to improve your timeline while also increasing the chances of having your offer accepted. Do your research, try your best to be patient, and you will be in your new home in no time.