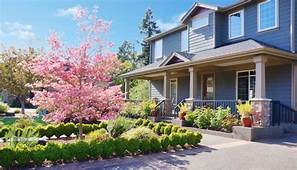 Princeton Town Topics – Let's Talk Real Estate – April 7, 2021
TIPS TO ENHANCE THE CURB APPEAL OF YOUR HOME THIS SPRING
In real estate, first impressions matter. When a buyer appreciates the exterior features of a house, they are more likely to want to look inside as well. If you're planning to list your home for sale this spring, now is the perfect time to venture outside and take some steps to boost the curb appeal for your home.
Here are some quick ideas to get started:
Remove dirt and debris from sidewalks, driveway, front porch or entryway. Consider hiring a professional company to power wash the exterior siding, doors and windows.
Take a close look at the front door. Is the color dull or faded? A fresh coat of paint will give an instant boost to the front.
Add eye-catching color by planting flowers in decorative pots around your front porch, steps, and around the mailbox. Choose from flowers that are already in bloom and brightly-colored annuals.
Freshen up the landscaping. Along with cleaning up the lawn, make sure to trim shrubs and trees, especially those along the house and foundation.