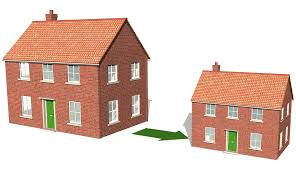 Princeton Town Topics – Let's Talk Real Estate – July 12, 2017
DOWNSIZING: ARE YOU REALLY READY?
Downsizing can be an emotional decision, especially because many people decide to make the move when they're entering a new phase of life (like when their children move out or a spouse passes on) which can have its own emotional consequences. Today, more people than ever are deciding to "right-size" their homes to make them more practical for their lifestyles. Just as young couples might move to a larger home to accommodate a growing family, it can make sense to move to a smaller space as you get older and your household becomes smaller.
Moving to a smaller home might seem nerve-wracking, but it can be exciting too. To make the move as relaxing and positive as possible, it's important to work closely with your real estate agent to nail down what it is you're looking for in your new home and how to make the transition with the least amount of stress. Real estate agents can point you to 55+ communities as well as smaller homes in your own neighborhood or in another local area so you still feel connected but less burdened by the high costs of home ownership. If you're considering downsizing, call an agent and set up a meeting to start exploring all your options.