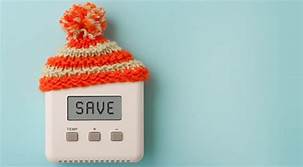 Princeton Town Topics – Let's Talk Real Estate – October 29. 2020
ENERGY SAVING TIPS FOR HEATING YOUR HOME
Winter is fast approaching and many of us will be spending a lot more time at home during the next few colder months. Here's a checklist of items that can help you save energy and lower your heating bill.
¨ Change the air filter in your furnace. A new filter will help your furnace work more efficiently and may reduce allergens in the air.
¨ Service the furnace. Have a heating professional inspect the furnace before you turn on your heat to check for maintenance items or potential issues.
¨ Lower your thermostat at night. Reducing the heat at night will help lower your heating costs. A programmable or smart thermostat will make adjusting the temperature an easy task.
¨ Hang winter curtains. Change to heavier window coverings in winter, especially in rooms that don't get southern exposure. Keep them open during the day and close them at night to provide some insulation.
¨ Seal Leaks. Check doors and windows for leaks and seal any gaps with caulking or weather stripping. Other culprits of cold air leaks include electrical outlets and unfinished spaces behind cabinets.