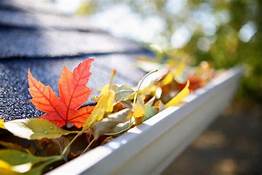 Princeton Town Topics – Let's Talk Real Estate – September 11, 2019
FALL LEAVES AND GUTTER MAINTENANCE
An important (but frequently and easily forgotten) task in the Fall is ensuring your home's gutters are clear of leaves and other debris. Gutters protect many parts of your home, including windows, siding, foundation – even your basement. Their main purpose is to provide runoff from rain and melting snow, so that it drains away from your house.

You can hire a gutter-cleaning service (which typically costs around $100, depending on the size and number of stories of your home) or you can do it yourself. (Note: If you do decide to take this task on by yourself, be sure to put safety first! This is definitely a project for a day with nice, calm weather; do not attempt to clear your gutters when it is raining, windy or damp.)

Some of the tools you will need to get the job done include: a sturdy ladder, heavy-duty gloves (to protect yourself from sharp edges), and safety goggles (to protect your eyes from debris.) First, you will need to scoop out all large debris, before using either a garden hose or blower to get the smaller particles of remaining dirt and debris out of the way to create a clear, unobstructed path for water to flow freely away from your home and yard.