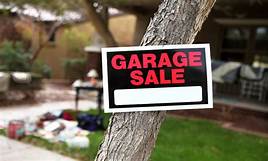 Princeton Town Topics – Let's Talk Real Estate – May 8, 2019
GARAGE SALE
You have an accepted offer on your home. Time to start packing and decide what keep, what to donate and what to sell. Some guidelines to follow when having a garage sale are:
1. Pick a date and advertise it in the local paper and online (http://yardsale.com/ is a great place post)
2. Price Everything! It may seem like a daunting task. Grouping your items into price points and color coding them with stickers will help you sort your items and reduce questions about pricing. Red is $1.00 Green is $2.00 Yellow $5.00 etc.
3. If you think something has significant value, have it appraised. A good local resource is http://www.ragoarts.com/contact
4. Schedule a pick up for unsold items. The Vets are prompt and take a wide variety of items including furniture: http://scheduleapickup.com/
Having a plan and sticking to it will allow this process to be seamless and stress free.