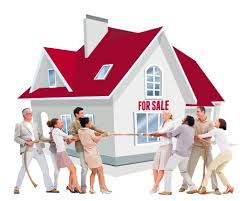 Princeton Town Topics – Let's Talk Real Estate – April 4, 2018
DO YOU NEED A BIDDING WAR TO SELL YOUR HOME?
There's a lot of hype about bidding wars – after all, what's not to love about having multiple buyers vying for your home? But the fact is, you don't need a major bidding war to get a great price for your home. All you need is one great offer.
Unfortunately, a lot of sellers gauge the success of their listing by how many people they have competing for their home. If they only have a one or two offers during the first weekend or week of their sale, they think the sale is a flop. In reality, unless the market is super hot, having too many people submitting offers right off the bat could be a sign your home is priced too low.
A more realistic rule of thumb: Aim for one to three offers within the first 30 days after listing your home for sale. If you get more, fine. If you don't get any reasonable offers, it's a good sign you need to reconsider your pricing. Again, let your agent be your guide. A skilled agent can position your home so it attracts the right buyer – and all it takes is that one buyer to close the deal.