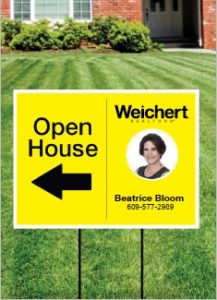 Princeton Town Topics – Let's Talk Real Estate – May 2, 2018
OPEN HOUSES: ARE THEY WORTH IT?
Selling a home is a busy process. Not only are you preparing to move all your stuff from your old house, but you're also probably looking for a new place to call home – and you're doing it at the same time. That's a lot of juggling, and sometimes, it may seem like scheduling and prepping for an open house is one task too many; after all, plenty of homes sell without open houses, so why should you bother having one?
The fact is, open houses offer significant benefits in certain price ranges. Not only can you attract multiple buyers in a single day (which means less scheduling for individual showings), you also create a sense of competition and urgency that can work in your favor. How? Because when one potential buyer sees another potential buyer – or sometimes several – looking at the same property, they'll feel far more motivated to make an offer to avoid losing the home to someone else. Plus, open houses can provide lots of feedback that can help you identify little "tweaks" that could help your home be more attractive and marketable. Bottom line: Instead of thinking of an open house as a hassle, think of it as an opportunity to sell faster and for a better price.