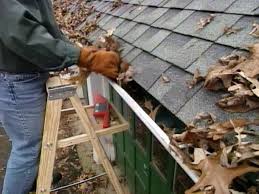 Princeton Town Topics – Let's Talk Real Estate – October 18, 2017
READY FOR FALL (PT. 2): 5 TO-DOS FOR YOUR HOME'S EXTERIOR
Last week, we listed a few important fall chores for inside your home. Here's a quick to-do list to keep your home's exterior in top shape, no matter what winter weather comes our way:
Repair your trim: Fill nicks and holes in damaged wood trim, then prime and paint to keep moisture and insects out.
Caulk and point: A fresh bead of caulk around window and door trim blocks moisture and bugs as well as drafts that can increase your heating costs.
Clear away debris: Leaf litter and yard waste has a tendency to collect along the foundation, making a great home for rodents and termites. Plus, keeping this area clear makes it easier for water to drain away from your home.
Trim oversized or damaged limbs: Snow, ice and winter winds can cause limbs to topple. A little prevention can save you a lot of money.
Clear your gutters: Whether you go DIY or hire someone, this is one chore you can't skip. Clean gutters direct rain and snowmelt away from your home so water doesn't leak into your home's interior.
One weekend is all it takes to complete these tasks, then you can relax — until the spring chores roll around.