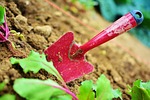 Princeton Town Topics – Let's Talk Real Estate – March 8, 2023
START PREPPING FOR SPRING PLANTING
Spring is just a couple of weeks away, and although it's too early to start planting, it is a good time to start prepping your garden for April or May planting. Here are a few of early spring gardening tasks to tackle over a couple of weekends.
1) Clear away yard debris left over from the winter. This includes any remaining dead leaves or branches that may be covering the ground around your yard, trees, shrubs and garden beds.
2) Add mulch to areas around trees and shrubs. Consider a mixture of compost and manure to add extra nutrients to the soil.
3) Start weeding now. If you get a head start on weeding, your plants won't be competing with weeds for nutrients once the warm weather arrive.
4) Prep your soil. Winter tends to compact the soil, so it needs to be loosened before planting. Start by digging eight inches or so to loosen the top soil. You can also add compost or coffee grounds to your soil now.
5) Take inventory of your outdoor tools, containers, and garden hoses. Start repairing or replacing items before you start planting.