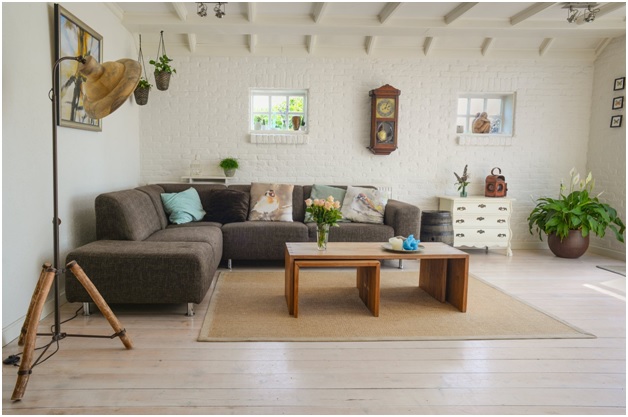 Guest article by Natalie Jones of homeownerbliss.info
Have you ever spent hours looking for an important letter or bill that was stashed at the bottom of a pile of paperwork? Do you ever struggle to find a seat or a surface you can use? How many cars can actually fit in your two-car garage? One or none?
The average American home is more than 2,000 square feet and has about 300,000 things in it. That's roughly 150 items per every square foot in your home. If you feel like your possessions own you instead of you owning them, then you're not alone.
What exactly does dealing with all this stuff add up to? Well, some researchers say that our possessions have begun to take a mental and physical toll. From feeling guilty when we can never quite get a room to stay tidy to dealing with anxiety from building debt and expenses, clutter can hurt you physically and drain you mentally.
Are you ready to cut yourself loose from the stress of feeling suffocated by stuff? If the answer is yes, then it is time to declutter. Let's start room by room:
Bathroom
This is one of the most frequently used rooms in a home, which makes it a place where dirt, debris and clutter can quickly accumulate. Open up the spaciousness in your bathroom by:

Putting small items in themed bins or baskets to condense your storage. For larger items, like towels, hair dryers and curling irons, look at the number you have and the shape they are in. Donate any extra beauty supplies you have and turn any undesirable towels into cleaning rags.
Buying a vacuum that easily tackles carpet, hardwood and tile floor so you can quickly and easily keep your bathroom floors clean regardless of the material. Check out online vacuum reviews to find the best one within your budget.
Take an inventory of what you use and how often you use it. Spend a week or so paying attention to items you use daily, like toothpaste, and items you use weekly, like face masks. Organize your bathroom closet to support these patterns and toss out anything you don't use at all.
Kitchen
With all its cabinets, shelves and surfaces, this room is one that can become a clutter nightmare. Kitchens are places where life happens — meals are cooked, wine is drank, kids do homework, serious party conversations occur. Give this room new life by:

Going through your "catch-all" drawers and put items in their proper homes. An extra roll of tape can go in your wrapping paper bin or a desk drawer in your home office. For the remaining items, ask yourself why you've kept it. Choose what really is useful and donate the rest.
Looking for multiples of pots, pans, trays, plateware and small appliances. Free up space by selling or donating these extra items. If you have a friend, family member or acquaintance moving out on their own for the first time, offer them some of your extras. One of the easiest ways to let go of an item is knowing it is going to someone who will appreciate it.
Living Room
This room is the focal point of many homes. It's where we converge at the end of the day to relax, rest and unwind. It's also where most of our visitors and guests will spend their time. Decluttering a living room starts with analyzing:

Your decor. Ask yourself, does this add to my space or take up space? If you need to be more structured, create a rule — like only one item per table — and stick to it. For example, you don't have to put out every picture you own. Every few weeks you can put a new picture in the same frame.
The space. Look for areas where clutter piles up — kids' toys by the TV, shoes by the front door, books on an end table. If it makes sense for these items to be there, consider ways to keep the clutter to a minimum. For example, you can get a box or basket for toys. Take it a step further by keeping only a handful of toys in the living room and cycling through the others.
Have you ever felt suffocated up by the amount of stuff in your home? Do you sometimes have trouble moving freely throughout your space? Hopefully some of these room-by-room tips will help you breathe easier and live more peacefully.