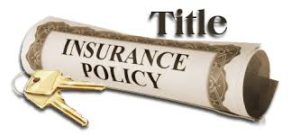 Title insurance protects you and the lender from any liens or claims that may be outstanding on the property.  Unlike other insurance, this protects you from things that happened in the past.
First step in getting the insurance is a title search.  Essentially this is an investigation of the chain of title on the home.  It confirms that there are no unpaid debts, including, unpaid mortgages, unpaid taxes, forged deeds, and contractor claims to name a few. It is estimated that one third of all title searches come up with some sort of issue.  The title company works to resolve these issues prior to closing.
There are two types of policies; lender's policy and owner's policy.  The lender's policy covers the lender for the amount of the loan on the home.  It decreases as the mortgage is paid down. The owner's policy protects you by against future issues that may arise and for the full length of ownership.