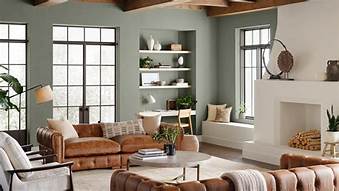 Princeton Town Topics – Let's Talk Real Estate – October 13, 2021
COMFORTING SHADES OF NATURE ARE THE LATEST COLOR TRENDS
The new color trend predictions for 2022 reflect the themes of comfort and renewal as our homes remain a warm retreat. Major paint brands say that homeowners are looking for colors found in nature to give their rooms a tranquil look.
Soothing greens: Sherwin-Williams has selected Evergreen Fog as their 2022 color of the year. This subdued green can work as a wall color in any room. Glidden has chosen Guacamole, a slightly brighter green that is especially suited for kitchens and bathrooms.
Tranquil blues: Trending shades of blue range from dark cobalt to watery blue greens. Behr's color palette for 2022 includes five different hues, including their color of the year, Breezeway. Pair a muted blue with a dark blue accent wall to change the look of your living or family room.
Earthy browns:  Creamy neutral browns and darker wood tones are on Valspar's 2022 color palette, including peach and dark walnut. Darker neutrals pair well with light blues and greens, especially as an accent or in woodwork. Creamy beige walls can create a comforting bedroom or welcoming dining room.