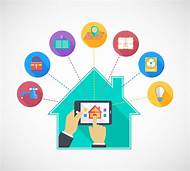 Princeton Town Topics – Let's Talk Real Estate – September 25, 2019
HOME AUTOMATION: A GROWING TREND IN TECHNOLOGY
Home automation has lately become a fast-growing trend in technology. It can take your home's technology to the next level by cutting energy costs, giving you the ability to control your home's most important features remotely, and can even increase the value of your house.

A "smart" home is one that is equipped with technologies that automate the home. It's amazing how many different smart home automation products are currently on the market. While the choices can be overwhelming, you can get started with home automation by narrowing down your options based on these considerations:
Decide which automated features you value most. Thermostat, alarm, appliances, security, and lighting are just a few of the available features.
Determine your budget. The price range for these products can range from very affordable to extremely pricey, so determining your budget ahead of time can more quickly help identify which programs are right for you.

Understand the extent of your technology knowledge and expertise, in addition to your ability and desire to learn. Some smart automation programs are quite simple to use, while others require more technological expertise.
By considering factors like comfort with technology, the features that you want to automate, and an automation budget, you can choose the smart automation program that works best for your household.