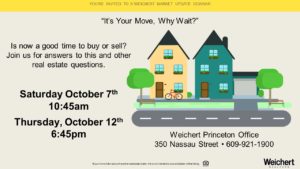 REAL ESTATE MARKET UPDATES
October 7th,  10:45 am
October 12th, 6:45 pm
Once again, Weichert will be presenting the Fall Market Update Seminar!
In one hour, you will acquire truly essential information on how to analyze the current real estate market trends and the opportunity presented by historically low interest rates.  Learn about absorption rates and how it   impacts buyers and sellers.
I really hope you can attend either session, whether thinking of making a move now or sometime down the road.
To reserve your seat, please contact me.  Refreshments will be served.  RSVP is a MUST.